Description
Portable Emergency Ventilator
Portable Emergency Ventilator SH210
Features
1. 5.6″ TFT color screen
2.Microprocessor controlled system
3.Suitable for adult & pediatric
4.Convenient using
5.Use knob setting
6.PEEP, P-V loop, V-F loop
7.Three-level visual and audible alarm, with concise words describing problems
8.Can be used for emergency and emergency transport and ICU treatment
9.Durable and accurate built-in flow sensor
10.Integrated expiration valve, easy to be sterilized
11.Backup apnea ventilation
12.Auto nebulizer
13.Backup chargeable battery
14.Improve the breathing pattern
15.CE certified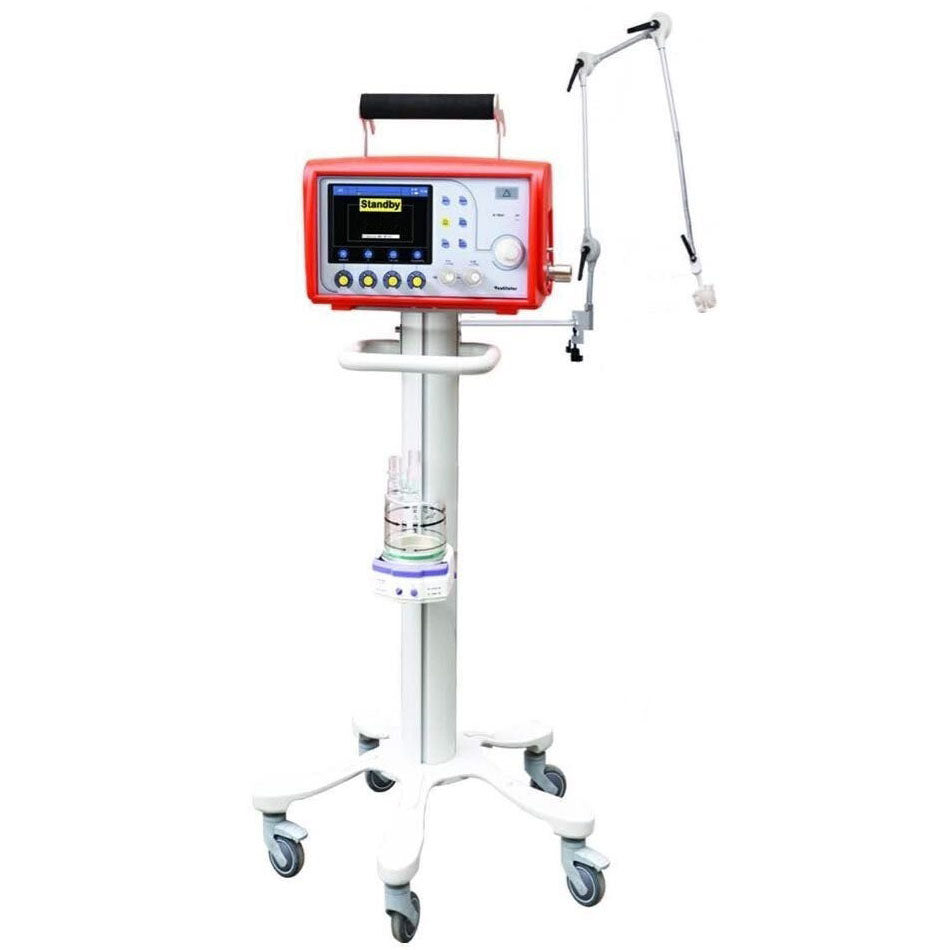 Specifications
Ventilator setting
1.Patient type: Adult & Pediatric
2.Driven mode: Gas driven electronically controlled
3.Working mode: pressure limited, time cycled, volume controlled
4.Setting: Electronic Knob
5.Ventilation mode: VCV, SIGH, SIMV+VCV, CPAP, SPONT
6.Waveform: P-T, F-T, V-T, P-V Loop, V-F Loop
7.Tidal volume: 0~1500ml
8.Breathing rate: 4~100bpm
9.I:E: 3:1~1:5
10.Trigger sensitivity: -2KPa~PEEP
11.PEEP: 0~2KPa
12.Oxygen: 50~100%
Alarms
1.Tidal volume, Airway pressure, Respiratory rate, Apnea, Power supply failure, Lack of oxygen pressure, Battery low
2.MV: Higher limit and lower limit
3.Pressure: Higher limit and lower limit
4.V: Higher limit, lower limit
5.Rate: Higher limit, lower limit
6.Apnea: Higher limit
7.FiO: Upper limit, lower limit
8.Loudness: 5 rating: 1,2,3,4,5
Environment requirement
1.Power: AC110~240V, 50~60Hz
2.Gas supply: Air & Oxygen pressure: 0.28~0.6MPa, <100L/min
3.Temperature: Operation -18~50°c; Storage -20~55°c
4.Relative humidity: Operation ≤80%, non-condensing; Storage ≤93%, non-condensing
5.Atmospheric pressure: Operation 50~106KPa
Accessories
Expiratory valve
Sampling tube
Flow sensor
Control of tracheal
O pipeline
Air pipeline
Silicone tube
Test lung
Weight and dimension
NW: 6.6kg
GW: 7kg
Dimension: H480xW260xD420mm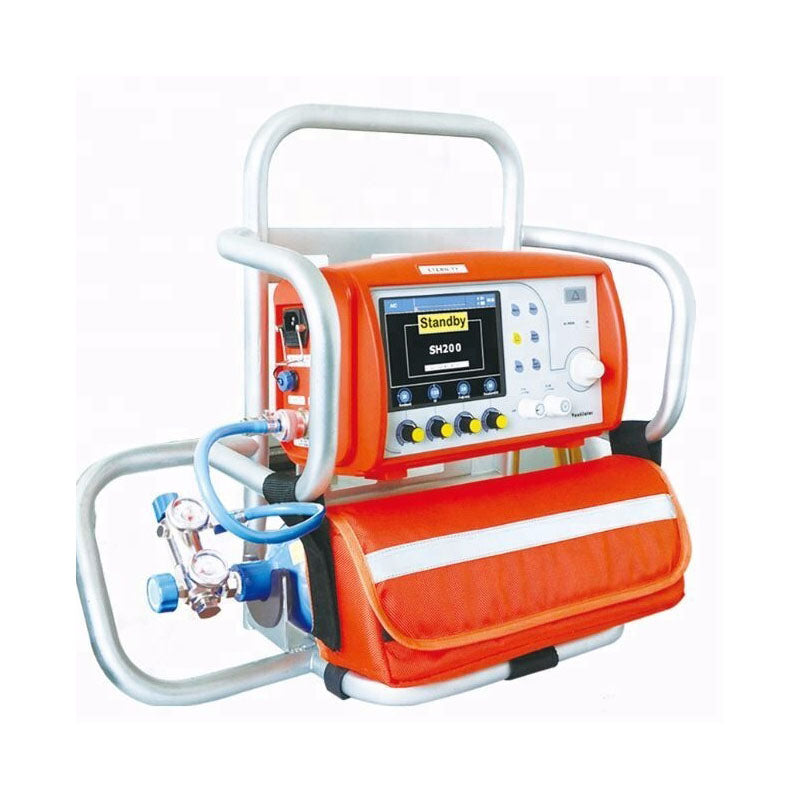 Technical Parameters
1. Ventilation mode: volume mode, synchronization mode, sigh mode, spontaneous breathing, apnea backup ventilation, pressure limitation, etc.
2. Monitoring parameters: where to buy n95 masks near me, tidal volume, minute ventilation, respiratory rate, airway pressure, trigger pressure, oxygen concentration monitoring, pressure-time waveform, velocity-time waveform, volume-time waveform
3. Alarm parameters: how a ventilator works, upper and lower limits of tidal volume, china coronavirus, upper and lower limits of airway pressure, minutes, upper limit of ventilation, lower limit, upper limit of oxygen concentration, lower limit, coronavirus in usa, low battery power, battery exhaustion, power failure alarm, etc.
E ventilator SH210 Series E ventilator SH210 Series E ventilator SH210 Series Mechanical PEEP Pressure Trigger • Eternity delivers high quality products and services to patients and clinicians worldwide. 3m n95 respirator mask, Eternity exceeds the expectations of customers by providing the highest standards in customer care. 3m face mask n95, Product Range Emergency Ventilators Anesthesia Machines Infusion Pump Syringe Pump Veterinary Products Spare Parts BEIJING ETERNITY ELECTRONIC TECHNOLOGY CO
Microprocessor controlled system 0 Suitable for adult &pediatric • Convenient using • PEEP, P-V loop, V-F loop • coronavirus california, Three-level visual and audible alarm, with concise words describing problems • Can be used for emergency and emergency • Durable and accurate built-in flow sensor • Integrated expiration valve, easy to be steri • coronavirus cure, Auto nebulizer 9 Backup chargeable battery • coronavirus news, Improve the breathing pattern CPAP,BIPAP and PEEP are available, Connecting with Blender, Humidifier With great visibility, the displayed information includes three parts: machine status, waveforms and parameters
SH200 Ventilator.
n95 mask walgreens, 
Microprocessor controlled system Suitable for adult and pediatric Widely-used ventilator, suitable for community hospital and clinics Stand type, easy to move, convenient using LED display,
face masks n95 respirator, 
easy to monitor Paw and parameters Humidifier use electronic knob setting Technical Specification Ventilation mode: IPPV,SIPPV,SIGH,SIMV,MAN,SPONT Alarm: High/low airway, High/Low MV
Key Specifications/Special Features:
Medical icu ventilator led display. n95 mask near me, Microprocessor controlled. Mode: ippv, sippv, sigh, simv, man, spont. For adult & pediatric. 0 ~ 1200ml medical icu ventilator sh200. Medical icu ventilator. Led display. n95 mask cvs, Microprocessor controlled. Mode: ippv, sippv, sigh, simv, man, spont. infrared thermometer home depot, For adult & pediatric. Features. 路 microprocessor controlled system. 路 suitable for adult & pediatric. 路 led display. 路 convenient using. 路 humidifier use electronic knob setting. infrared thermometer lowes, Specifications. 1.driven type: adult, pediatric. 2.driven mode: gas driven electronically controlled. 3.working mode: pressure limited, time cycled; volume controlled. 4.setting: keypad. 5.ventilation mode: ippv, sippv, sigh, simv, man, spont. 6.tidal volume: 0~1200ml. 7.breathing rate: 6~60bpm. 8.i:e: 2:1~1:4. 9.trigger sensitivity: -2kpa~2kpa. 10.asb pressure: 0~6kpa. 11.high pressure: 1~8kpa. 12.low pressure: 0~2kpa. 13.high mv: 0~30l/min. 14.low mv: 0~15l/min. 15.silence time for alarm: =120s. 16.monitoring: tidal volume, minute volume, airway pressure. 17.alarm: high/low airway, high/low mv. 18.power supply: 220v卤10%, 50hz卤1hz. 19.temperature control. 20.high temperature alarm, auto-power cut off. 21.option: oxygen-air blender, compressor.
3m face mask n95, 3m n95 respirator mask, best infrared thermometer, china coronavirus, coronavirus california, coronavirus cure, coronavirus in usa, coronavirus news, COVID-19, Face Mask, face masks n95 respirator, infrared thermometer home depot, infrared thermometer lowes, lowes n95 mask, n95 dust mask, n95 face mask, N95 Mask, n95 mask amazon, n95 mask cvs, n95 mask for sale, n95 mask home depot, n95 mask near me, n95 mask reusable, n95 mask walgreens, n95 mask walmart, n95 medical mask, n95 respirator face mask, n95 surgical mask, where to buy n95 mask, where to buy n95 masks near me